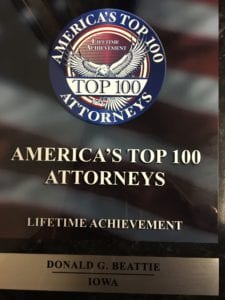 With great honor, we are excited to announce Don Beattie's selection as a Lifetime Achievement Member to American's Top 100 Attorneys.
The Lifetime Achievement recognition is based on lifetime of hard work, ethical standards and community enriching accomplishments that are inspiring among the legal profession (America's Top 100).
The very high standards for selection are also based on a broad array of criteria including professional experience, lifetime achievements, peer reputation and community impact.
Less than one-half percent of active attorneys in the United States receive this honor, and we are proud of Don, who has been honored with this once-in-a-lifetime award. Don has dedicated four decades fighting for justice for clients of various needs, and will continue to work hard for those who need it.
Without the trust of each client who walks through the doors of Beattie Law Firm, these accomplishments could not be reached.