Nationwide Gas Explosion and Burn Injury Lawyers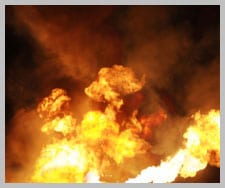 Over the course of 30 years, attorney Donald G. Beattie has handled more than 100 cases of burn injuries, many caused by gas explosions. The vast majority of these cases stem from residential and commercial propane gas leaks and explosions. Mr. Beattie has also helped his clients in natural gas explosions, anhydrous ammonia burn injuries, carbon monoxide exposure injuries, and many other complex cases.
In addition to gaining much-needed financial compensation for burn injury victims, our law firm has made an important difference in product safety. We stress the importance of safety in industries that often push safety issues to the back burner in favor of profit-generating shortcuts. It is our hope that our work will result in fewer and fewer explosions, injuries and deaths.
When people across the nation are injured by propane gas explosions, natural gas explosions, anhydrous ammonia exposure, carbon monoxide exposure, or any other dangerous and deadly product, they are often referred to the Beattie Law Firm in Des Moines because of our extensive experience. We encourage referrals from friends, family and other lawyers from across the United States.
When seeking a lawyer following a burn injury, choose an attorney with experience advocating for the rights of burn injury victims. Contact us today at 515-263-1000 for a free initial consultation.
Safety First
Don Beattie has long been at the forefront for consumer safety when it comes to propane gas explosion litigation.  In fact, the propane gas industry has even published an interview with him in their national magazine, LPGas, citing him as one of "the most recognized legal adversaries in cases against propane marketers and equipment manufacturers".  You can view that article here.  For Don's comments surrounding the article, please click here.
Working for Consumer Safety
Using what we have learned from prior cases, the personal injury attorneys at the Beattie Law Firm have been leaders in pushing for safer practices in many industries.
Contact Us
For more information, please visit our gas explosions settlements and verdicts page. Our results speak for themselves. To schedule an appointment with an experienced lawyer regarding a catastrophic fire-related injury, please contact us.