Des Moines Motorcycle Accident Attorney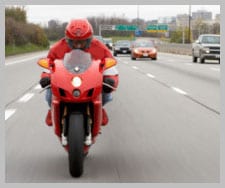 There are many different reasons other drivers give for running into, cutting off, rear-ending and otherwise causing motorcycle accidents that cause serious injuries to bikers and their passengers.
If you or a loved one was seriously injured in a motorcycle accident, talk to an Iowa motorcycle accident lawyer at the Beattie Law Firm in Des Moines.
In motorcycle accident cases, the other driver and the insurance adjuster often try to blame the motorcyclist. Make sure you have an attorney who will investigate the accident and protect your rights.
In Motorcycle Accidents, It's the Same Old Excuses
Car and truck drivers who cause bike crashes have the same explanations in one accident report after another:
I didn't see the motorcycle.
The motorcycle came out of nowhere.
The motorcyclist was not following the rules.
Many drivers simply do not want to share the road with motorcycles. They are also focused on where they are going and they are looking for other cars and trucks — not motorcycles. At the Beattie Law Firm, our personal injury lawyers will investigate the accident. We know the laws, and we will protect your rights.
We have committed interests in trying to make the roads safer for motorcyclists. Impacts caused by the negligence of car and truck drivers have a disproportionate impact upon motorcyclists and the injuries received are generally more severe. We will continue to fight for the rights of motorcyclists.
You do not have to deal with the insurance company on your own. At the Beattie Law Firm, we can attend to all the details of your car accident claim. Our job is to handle all legal aspects of your claim, while you recover physically and emotionally. We will advise you on questions such as:
Do I have to talk with the other driver's insurance company?
Do I have to give a recorded statement?
If I have already given a recorded statement, what do I do now?
Should I give the adjuster a patient waiver?
Should I accept the insurance company's property damage payment?
How will my medical bills be paid?
What are insurance medical payments?
Do I have insurance medical payment coverage?
What do I do when the other driver's insurance company is saying that I am partially or completely at fault?
What do I do for compensation when I am off work?
Will the insurance company pay for my future doctor visits?
If I accept a settlement offer, can I get more later if my condition worsens?
What is reasonable compensation for what I am going through?
Is my spouse or child entitled to compensation?
Is there a time limit on my claim?
Will pre-existing conditions prevent me from being compensated for the accident?
What is under-insured motorist coverage? Am I entitled to it?
What is uninsured motorist coverage? Am I entitled to it?
The officer told me the other driver does not have insurance. What should I do?
Am I entitled to my lost wages while I am recovering from the accident?
What happens when more than one driver caused the accident? Who would be responsible for my injury?
Do I have to repay the bills paid by my health insurance company?
How much does it cost to pursue my rights?
If the other driver did not get a ticket, can I still make a claim for my injuries?
We understand and appreciate the fact that often injuries suffered by motorcyclists include multiple broken bones and painful road rash. In the worst cases, the motorcyclist can suffer serious injuries such as traumatic brain injury, spinal cord injury or wrongful death. At the Beattie Law Firm, we understand the severity of these injuries and can present them to the jury on your behalf.
Contact Us
For more information, please visit our settlements and verdicts page. To schedule an appointment with an experienced lawyer regarding a motorcycle accident injury, please contact us.