Iowa's Only GR8 Professional Law Firm:
---


REQUEST FREE CASE EVALUATION
 Des Moines Auto Wreck Lawyers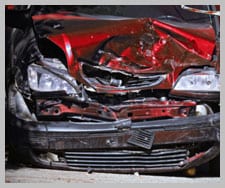 Whether inattentive, impaired or just inconsiderate, a negligent driver presents danger to everyone sharing the road with him or her. At the Beattie Law Firm, we have represented hundreds of Iowans injured on roads, highways and interstates.
No car accident injury case is too small or too big for us to consult with you. In fact, many seemingly minor injuries prove, over time, to be more serious than expected. Our personal injury attorneys represent people who have suffered injuries ranging from lacerations, whiplash, broken bones, and traumatic brain injuries to paraplegia and quadriplegia. We encourage you to pick up the phone and give us a call. We will be honest and forthright regarding your rights and the appropriate course of action at the time and into the future.
Remember: The insurance adjuster is a professional who deals with automobile accident claims on a daily basis and whose first responsibility is to the insurance company, not you. In fact, by the time you read this, they may have already convinced you to give a recorded statement or sign a patient's waiver for them. You need a personal injury lawyer on your side to protect your rights and advise you on the appropriate course of action.Contact us today at 515-263-1000 for a free initial consultation.
Handling the Legal Complexities While You Recover From Your Car Wreck
At the Beattie Law Firm in Des Moines, Iowa, our attorneys will advise you through the legal process that follows a car accident. We understand that dealing with insurance companies can be difficult.
You do not have to deal with the insurance company on your own. At the Beattie Law Firm, we can attend to all the details of your car accident claim. Our job is to handle all legal aspects of your claim, while you recover physically and emotionally. We will advise you on questions such as:
Do I have to talk with the other driver's insurance company?
Do I have to give a recorded statement?
If I have already given a recorded statement, what do I do now?
Should I give the adjuster a patient waiver?
Should I accept the insurance company's property damage payment?
How will my medical bills be paid?
What are insurance medical payments?
Do I have insurance medical payment coverage?
What do I do when the other driver's insurance company is saying that I am partially or completely at fault?
What do I do for compensation when I am off work?
Will the insurance company pay for my future doctor visits?
If I accept a settlement offer, can I get more later if my condition worsens?
What is reasonable compensation for what I am going through?
Is my spouse or child entitled to compensation?
Is there a time limit on my claim?
Will pre-existing conditions prevent me from being compensated for the accident?
What is under-insured motorist coverage? Am I entitled to it?
What is uninsured motorist coverage? Am I entitled to it?
The officer told me the other driver does not have insurance. What should I do?
Am I entitled to my lost wages while I am recovering from the accident?
What happens when more than one driver caused the accident? Who would be responsible for my injury?
Do I have to repay the bills paid by my health insurance company?
How much does it cost to pursue my rights?
If the other driver did not get a ticket, can I still make a claim for my injuries?
The answers to the above questions are generally case specific. No two accident claims should be treated the same. Worrying about finances and legalities following an auto crash does little to help you recover. We want to give you the peace of mind you so desperately need in a time of uncertainty and chaos. Dealing with the insurance company is what we do best.
Contact Us
For more information or to schedule an appointment with an experienced personal injury lawyer regarding an auto collision caused by negligence, please contact us. Visit our car accidents settlements and verdicts page for more information about our past successes.