Iowa's Only GR8 Professional Law Firm:
---


REQUEST FREE CASE EVALUATION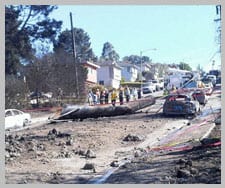 Natural gas is used to power millions of homes in the United States. When used safely, it works well to power appliances such as water heaters, stoves, furnaces, and washers and dryers. However, when natural gas escapes from the piping and enters into the atmosphere, a deadly situation is created.
When you, a loved one, or a client has been affected by a natural gas explosion or fire, you may feel that nothing can be done to hold others responsible for the tragedy. There is no doubt that explosion lawsuits are among the most difficult cases to litigate and prove. Key evidence is often destroyed or damaged in the explosion. A key witness may have died in the explosion. There is no doubt that the gas company and appliance manufacturers will hire the foremost experts in defense of the claim. You too should be entitled to the best representation.
We will help you answer the tough questions:
• How did the leak occur?
• Did you or your loved one get a warning that there was a leak?
• Did you get adequate warnings and training from the gas company?
• Did the gas company provide you with a gas detector?
• Did you even know what a natural gas detector is and how it can save lives?
 These questions often hold the key to holding others responsible for your injuries or another's death. We can help you answer those questions.
When it comes to complex litigation, results matter. Check out or verdicts and settlements for natural gas explosions here.
If you have found our website, you are on the right track to getting the help you need following a tragic event in you or your loved one's life. If you have questions about a propane gas explosion case, please feel free to contact us.