Iowa's Only GR8 Professional Law Firm:
---


REQUEST FREE CASE EVALUATION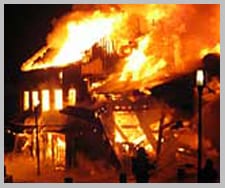 Have you, your loved one, or your client been the victim of a propane gas explosion? If so, our thoughts and prayers go out to you. We know what a family goes through after a tragic event like this. Litigation may be the furthest thing from your mind. Yet, immediate response to the event so that evidence can be properly preserved is important. You have made it here to our website, which means that you are on the right path to getting the representation that you need. Propane gas explosion litigation is complex and difficult. It should not be left to the untested or amateurs. Don Beattie, and the Beattie Law Firm, has handled hundreds of lawsuits involving residential and commercial propane gas explosions resulting in serious injuries, burns, and death. The Beattie Law Firm is widely considered the foremost expert in propane gas explosion litigation for victims. We do not represent gas companies or insurance companies. We represent the victims of these tragic incidents.
Tough questions need to be answered:
• How did the leak occur?
• Did you or your loved one get a warning that there was a leak?
• Did you get adequate warnings and training from the gas company?
• Did the gas company provide you with a gas detector?
• Did you even know what a propane gas detector is and how it can save lives?
These questions often hold the key to holding others responsible for your injuries or another's death. We can help you answer those questions.
When it comes to complex litigation, results matter.
Check out or verdicts and settlements
here
. If you have found our website, you are on the right track to getting the help you need following a tragic event in you or your loved one's life.
We are experts in the industry standards, publications, and practices in the propane industry.
We have worked with or against nearly all expert witnesses in propane gas litigation. Over 30 years, the cases pursued and advanced by the Beattie Law Firm has helped shape propane safety practice in the industry, drastically reducing the number of deaths related to residential propane gas use. In fact, Don Beattie was approached by the propane industry a few years ago to be published in the leading industry magazine concerning his views on propane safety. You can view that
here
. If you have questions about a propane gas explosion case, please feel free to contact us.