Iowa's Only GR8 Professional Law Firm:
---


REQUEST FREE CASE EVALUATION
Des Moines Trucking Accident Attorney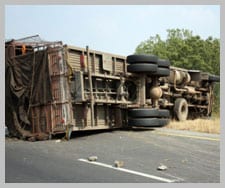 When trucks are speeding through Iowa on I-80, I-35, I-235, I-380, I-29 or on any other road in Iowa, a miscalculation, misjudgment or inattention can cause a semi crash that seriously injures those in the cars they crash into and sometimes results in tragic death.
At the Beattie Law Firm in Des Moines, our Iowa truck accident lawyers represent people who have been injured or killed in truck accidents.
In a trucking accident, there are many factors that require careful investigation. The accident may be the result of a driver who has a prior history of accidents, a driver who has been on the road too long, a driver simply driving too fast. No matter what the cause, though, make sure you have a personal injury attorney who understands the mechanics of a truck accident as well as the law and your rights.
Talk to a Lawyer Who Understands the Mechanics of a Truck Accident
The injuries suffered in a truck accident are severe and often include death. At our law firm, we have the experience and the determination it takes to obtain maximum compensation for our clients. More importantly, we can provide peace of mind that your claim is being handled efficiently and effectively by an experienced Iowa accident attorney.
You do not have to deal with the insurance company on your own. At the Beattie Law Firm, we can attend to all the details of your car accident claim. Our job is to handle all legal aspects of your claim, while you recover physically and emotionally. We will advise you on questions such as:
Do I have to talk with the other driver's insurance company?
Do I have to give a recorded statement?
If I have already given a recorded statement, what do I do now?
Should I give the adjuster a patient waiver?
Should I accept the insurance company's property damage payment?
How will my medical bills be paid?
What are insurance medical payments?
Do I have insurance medical payment coverage?
What do I do when the other driver's insurance company is saying that I am partially or completely at fault?
What do I do for compensation when I am off work?
Will the insurance company pay for my future doctor visits?
If I accept a settlement offer, can I get more later if my condition worsens?
What is reasonable compensation for what I am going through?
Is my spouse or child entitled to compensation?
Is there a time limit on my claim?
Will pre-existing conditions prevent me from being compensated for the accident?
What is under-insured motorist coverage? Am I entitled to it?
What is uninsured motorist coverage? Am I entitled to it?
The officer told me the other driver does not have insurance. What should I do?
Am I entitled to my lost wages while I am recovering from the accident?
What happens when more than one driver caused the accident? Who would be responsible for my injury?
Do I have to repay the bills paid by my health insurance company?
How much does it cost to pursue my rights?
If the other driver did not get a ticket, can I still make a claim for my injuries?
In order to meet deadlines, truckers will often speed or drive when tired. Trucks may be overloaded or loaded improperly so that the cargo shifts and causes an imbalance. Our lawyers and investigators look into driver histories and driver training and licensing. We examine maintenance logs. Was the driver distracted by a cell phone call, texting or entering data into an on-board computer? We will answer these questions for you. The more we know about the truck accident, the better we can represent our clients.
Contact Us
For more information, please visit our settlements and verdicts page. To schedule an appointment with an experienced lawyer regarding a truck accident injury, please contact us.