A family of three was killed in a collision between a car and pickup in southern Iowa Wednesday in Decatur County.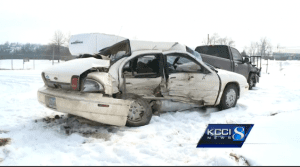 Iowa State Troopers say the car was headed east when the driver lost control of her vehicle and swerved into the path of the pickup, traveling westbound. The crash is still under investigation; however, reports are showing the car may have hit a patch of ice.
As we approach the transition between seasons, we will experience thawing and refreezing of ice and snow. After our long, gruesome winter, it may be hard to keep in our excitement for warmer weather … but always remember to watch the roads, plan ahead and practice defensive driving.
Not all accidents are clear-cut and at The Beattie Law Firm your wellbeing is our number one priority. If you or a loved one becomes a victim of an auto collision, call us for a free consultation.