LP Gas Magazine. By Patrick Hyland. June 2009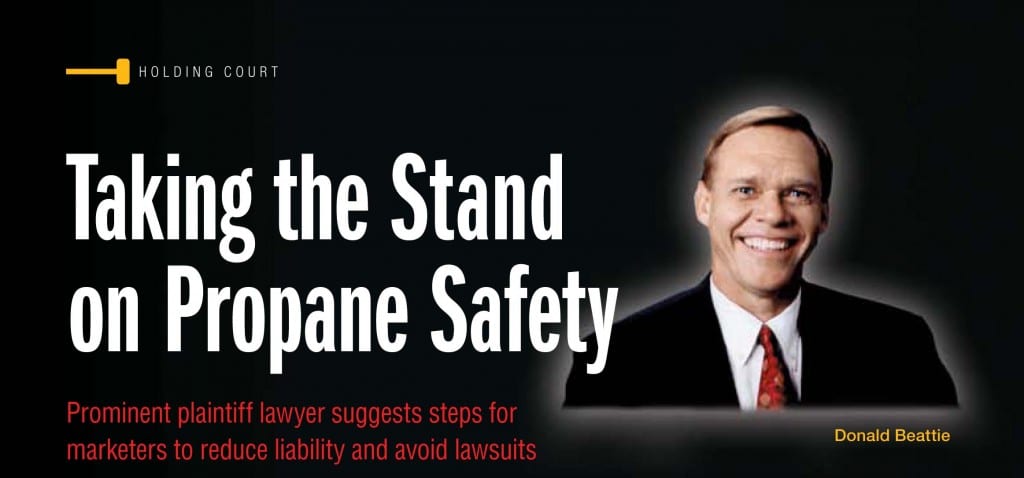 Every propane marketer's worst nightmare is getting word that a business-related accident has caused injury or taken a life. But with nearly 60 million Americans consuming some 20 billion gallons of the combustible fuel each year, incidents in our industry are a daily reality – sometimes with dire consequences.
Not far behind that fear is hearing that your company has been named in a multimillion dollar lawsuit filed by an accident victim or their survivor. It's a worry that Donald Beattie drives most every propane marketer to spend tens of thousands of dollars every year for liability insurance on themselves and their businesses.
Donald Beattie, 61, is among the most recognized legal adversaries in cases against propane marketers and equipment manufacturers. The Des Moines, Iowa, attorney has served as lead counsel in scores of
personal injury and wrongful death lawsuits since 1985. Many of those verdicts and settlements exceeded $1 million; one delivered $18 million.
The former U.S. Marine, Navy pilot and Drake University Law School graduate recently discussed his perception of safety in the propane industry with LP Gas Editor Patrick Hyland. Following are excerpts from that interview.